Today is my first project post for Gel-a-tins! Please stop by
HERE
to check out their blog!
Here is my post:
Hello, everyone! Thank you for stopping by Gel-a-tins today! This is Jessi here and today is my first post as a Gel-a-tina! **Happy dance**
When I first saw the Honey Bear stamp set, the creative wheel started to turn! So many ideas flowing! Which one to pick? Which one to pick? I couldn't pick just one, but here is the creation I will share today:
Had to have the bear pop off the card!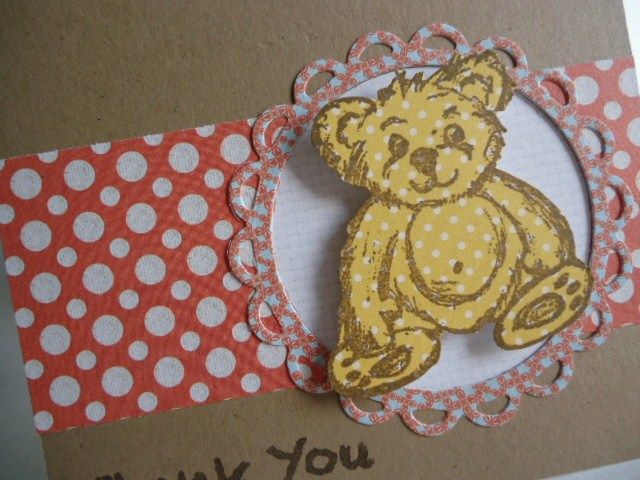 And I loved the bear too much to use him just once, so I added him to the inside of the card with the rest of the sentiment.
As you will probably learn about me, I like to fussy-cut! So when I saw this cute bear, that was the first thing I did. The rest of the card went from there. To showcase the bear, I used die-cuts to create a "window" for the bear. (Using the scraps for the inside of the card, don't want to waste any paper, right!) Once the papers were attached, it was time for the sentiment! And as the finishing touch, the bottom corners were rounded using a corner punch.
Gel-a-tins Stamp Set:
Honey Bear (Bear and Sentiment)
Other Supplies:
Recollection Kraft Cardstock
October Afternoon and Lily Bee Designs Papers
Spellbinders: Circle and Lacey Circle Die-cuts
Paper Studio Brown Ink
Corner Punch
Popdots
Thank you for stopping by Gel-a-tins!
I am off to create! Have a great day!!!